Who loves Mexican food?? I do, I do! Also, my husband loves it. Anytime I ask him what he wants me to make for the week he always mentions something Mexican.
The easiest thing to do is to make ground beef with spices, make some guacamole, pico de gallo and use bibb lettuce to make taco wraps. However, that is always my default, and although it's delicious, I wanted to do something more authentic that would last longer. (I thought these would last awhile)
I've wanted to make low carb Enchiladas for a while now, but I didn't want to go through the hassle of making my own Keto tortilla's and risk them tasting like crap.
I've seen some recipes for tortillas that use coconut flour which I am not a fan. I've also seen some methods that use psyllium husk which I use for the Keto burger buns I make, but I think they taste too "fibery." That is not a real word, by the way, I know.
I remember seeing Mama Lupe's Low Carb Tortilla's somewhere, probably amazon when I was searching for low carb products awhile ago.
Anyway, I thought why not make enchiladas and use those tortillas? They have great macros. 7 grams of carbs with 5 grams of fiber per tortilla. That's a great option if you are counting net carbs or just trying to lower your carb intake.
Some people may argue that these aren't  Keto because the ingredients do contain whole wheat, but I say, do what is best for you. Keto isn't about what you can or can't eat. It's about getting your body into Ketosis in which it switches from burning sugar to burning fat. You can accomplish that by eating anything, as long as it's under your specific carb tolerance which you have to figure out by experimenting.
Some people can get into Ketosis eating 50 grams of carbs a day, and some people can only eat 20 grams of carbs or less per day. It's very individualized.
Regardless, I am getting off topic here so let's get back to the enchiladas. I used the Mama Lupe's Low Carb Tortillas, and they were terrific. The consistency and texture are just like a regular tortilla, and it worked perfectly for this recipe.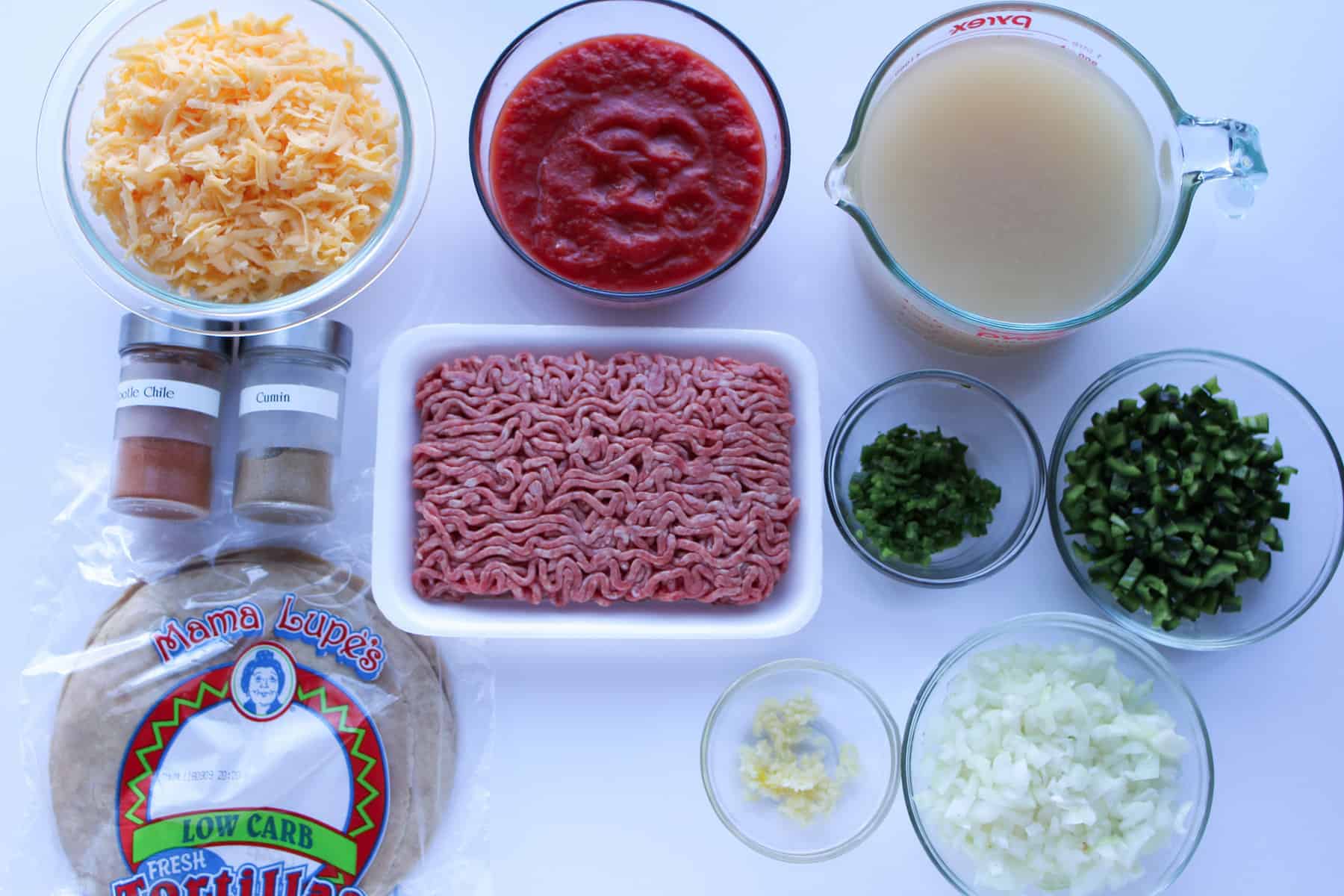 The only mistake I would say I made was not making a double batch. This recipe makes about ten enchiladas, and they didn't last 24 hours. If you have Mexican food lovers in your household, do yourself a favor and double the recipe. You won't regret it, I promise.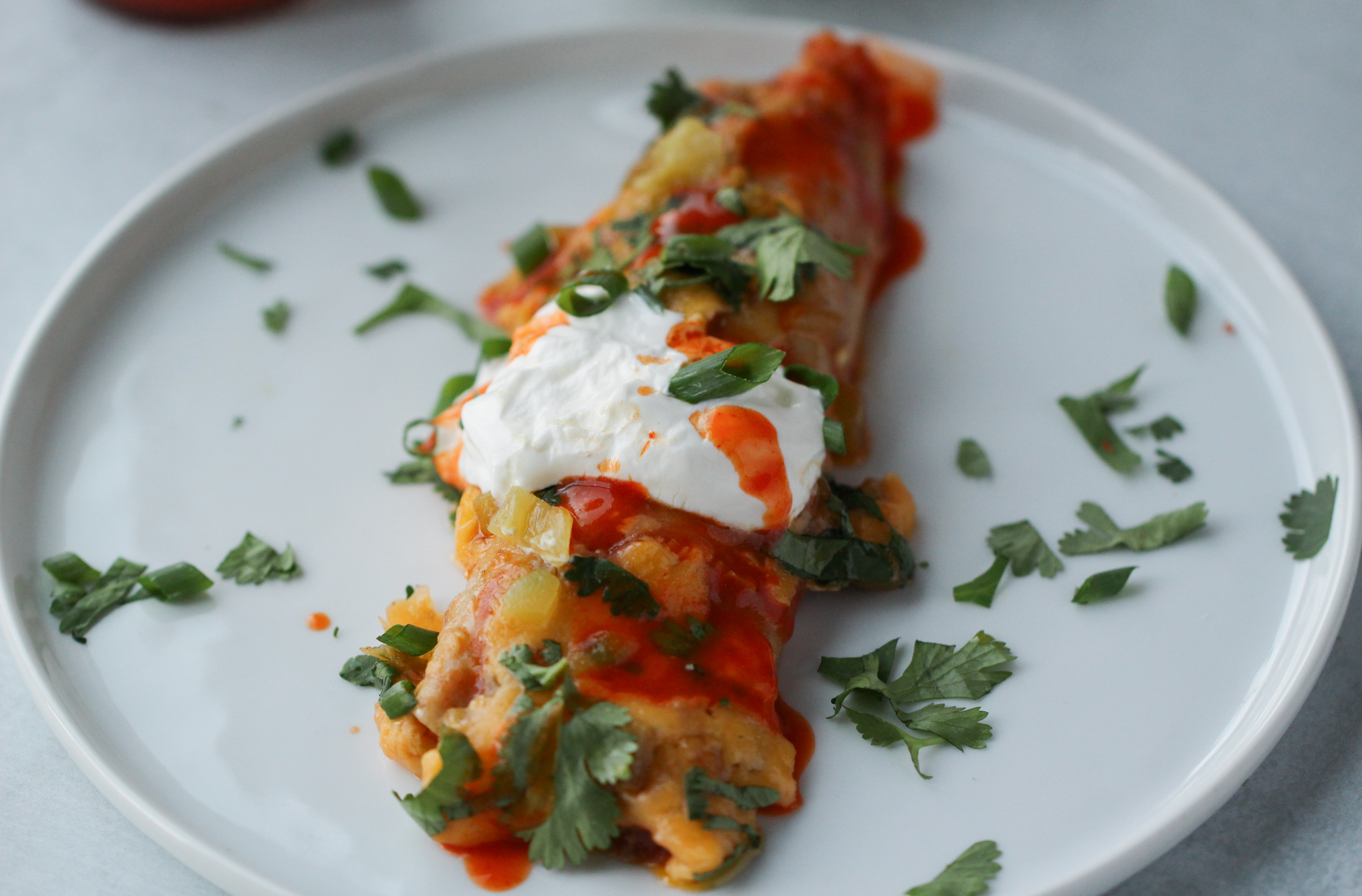 Print
Low Carb Beef Enchiladas
Author:

Prep Time:

25 min

Cook Time:

25 min

Total Time:

50 minutes

Category:

Main Dishes

Method:

Baking

Cuisine:

Mexican
---
Scale
Ingredients
For serving:
Sour cream
Fresh cilantro
Scallions
Corona Primer  (2.9g of carbs)
---
Instructions
Heat 2 Tbsp. oil in a skillet over medium-high. Add ground beef and cook for about 10 minutes. Using a slotted spoon, remove beef and set aside.
Cook onion, jalapeño, poblano chile, and garlic in the same skillet, stirring and scraping up any browned bits, until softened, about 10 minutes.
Add tomatoes, season with salt, and continue cooking until most of the liquid has evaporated and tomatoes begin to stick to the skillet, about 8 minutes.
Add chili powder and cumin and cook about 1 minute.
Add reserved beef and Xanthan Gum and toss until coated.
Reduce heat to medium and cook until the sauce has thickened and beef is tender, 30–35 minutes; season with salt.
Preheat oven to 425°.
Pour 1/4 cup of the sauce on the bottom off a  13×9″ baking dish.
Working one at a time, spread ¼ cup beef mixture down the center of tortilla and fold one side over filling, then continue to roll enchilada onto itself.
Place seam side down in prepared baking dish as you go.
Top with cheese and remaining sauce. Bake until sauce is bubbling and cheese is beginning to brown, 20–25 minutes.
Let sit 10 minutes before serving.
Top with fresh cilantro, sour cream, and scallions. Enjoy with a Corona Premier
---
---
Nutrition
Serving Size:

1 tortilla

Calories:

376

Fat:

26g

Carbohydrates:

14g

Fiber:

8g

Protein:

24g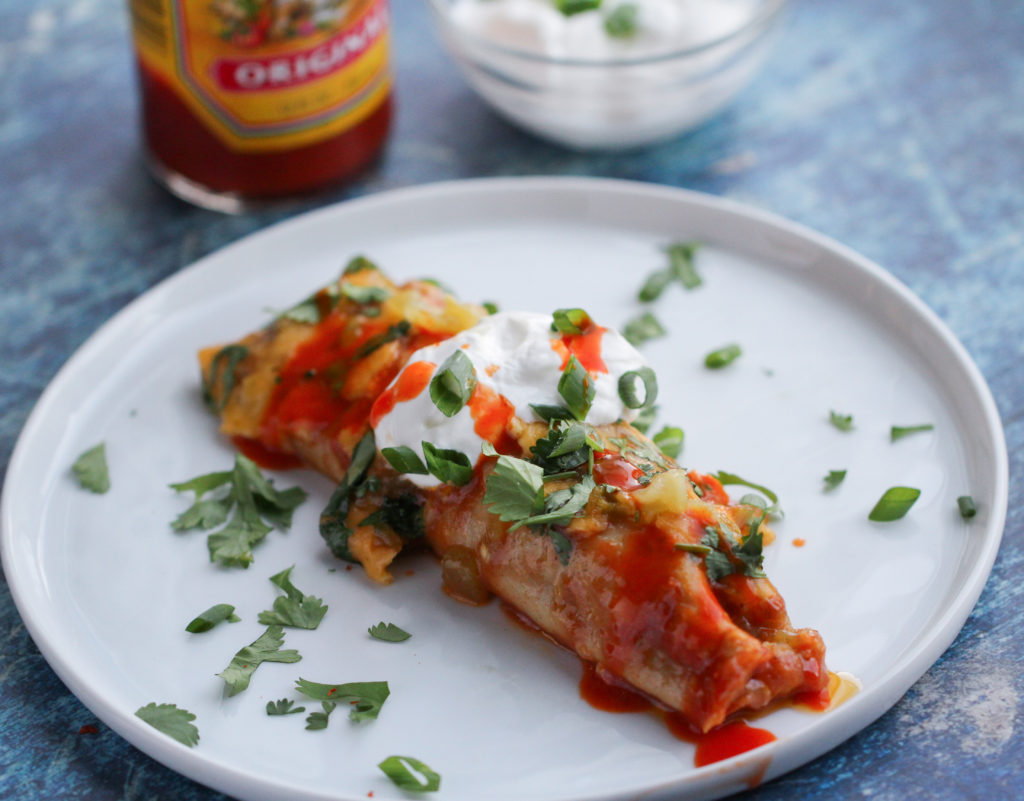 This post contains an affiliate link in which if a purchase is made I receive a commission at no additional cost to you.  Thank you for your support!