I've never made Moroccan food before this keto Moroccan pork recipe and I was impressed. The marinade on this pork is super flavorful!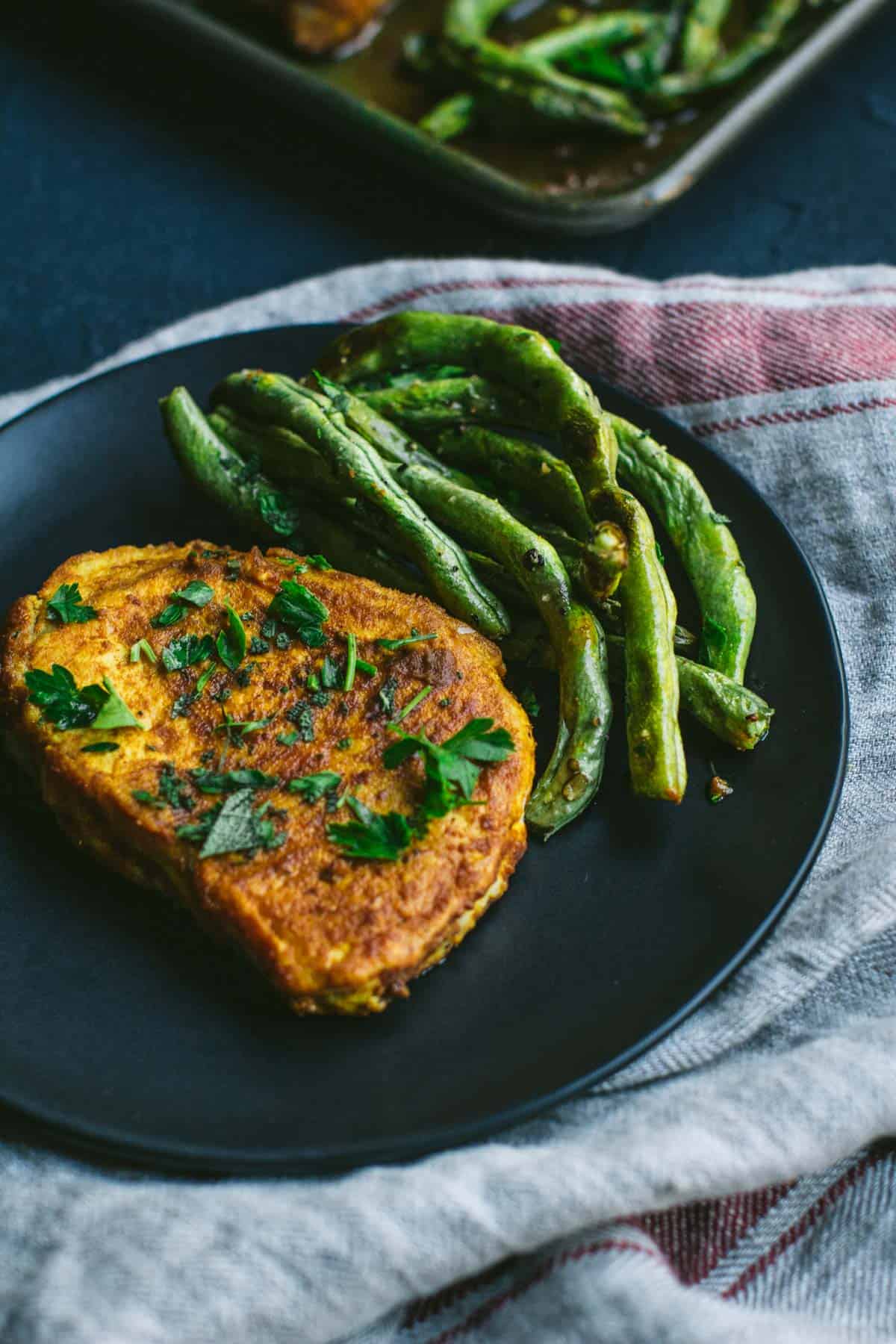 You all know how much I love quick and easy sheet pan meals, and this keto Moroccan pork is no different!
There's barely any prep but you'd never guess with the amount of flavor. Infused with distinct Moroccan flavors like cumin, paprika, and lemon – these one-pan pork chops will transport you right to another country.
Traveling overseas with two young kids can be tricky, so being able to create this dish at home is a great way to experience cuisine from around the world.
For the spice mix, you'll need spices you probably already have on hand – salt, cumin, paprika, turmeric, pepper, garlic cloves, and a little coconut oil.
The beautifully warming and aromatic spices really work so well with pork.
Are Green Beans Keto?
Green beans are keto and low-carb. One cup of green beans has about 10 grams of carbs and about 4 grams of fiber. Making green beans only 6 grams of net carbs
How to make Keto Moroccan Pork and Green Beans
Mix the spices and garlic along with the coconut oil and rub them into the pork chops. Place on the baking tray along with the green beans – topped and tailed – and drizzle with olive oil. Place in the oven and bake for 25 minutes, turning once halfway through. Once out, drizzle with lemon juice and cilantro and serve!
A quick note about cooking pork – the pork chops need to reach an internal temperature of 145F when cooking. I recommend using a probe thermometer to make sure they are fully cooked.
It's as quick and easy as that. I love that I have the opportunity to try these delectable meals while still having time to spend with the family.
More articles about Keto Diet: