Not only is this Butter Chicken Recipe Keto friendly, but it is also dairy-free which means Clean Keto approved!! WHOOOHOOO.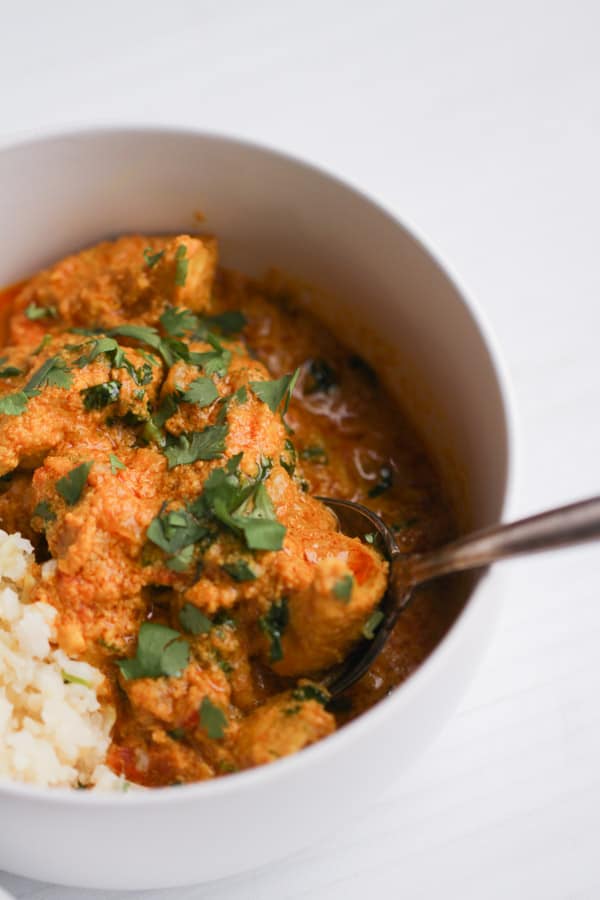 I am sitting in the library close to my house with a raging headache. I'm talking a 10/10 on the headache scale.
Why? Your first guess is that I drank too much last night. Last night was a Monday, and I'm a mom. Come on people.
No, I ate too many brownies last night. Huh?
Yeah, too many brownies with too many sweeteners. See I have been on a mission; a mission from above (Boss Baby quote). I am trying to develop the best Keto Brownies.
After four failed attempts, I am starting to think that such a thing doesn't exist. I want them to taste like the boxed Ghiradelli brownies that I used to buy in bulk from Costco, but I realized that isn't going to happen.
I have this problem when I set my mind on something; I won't stop until achieving my goal. The problem here is that my body is telling me to stop by giving me this terrible headache.
One side effect of too many sweeteners is headaches, and I am feeling it today. I'm all out of the water, and I wish I had an Advil. But oh, butter chicken! (What a great transition, self)
I made this recipe a few days ago because I've been craving butter chicken for months now. However, the traditional recipe calls for Greek Yogurt and Heavy Cream, and I've since cut dairy out since going Clean Keto.
If you want to know more about Clean Keto, you can read the post here, but basically, I don't eat dairy anymore.
I realized I could experiment using Coconut Cream and Coconut Milk instead and if it turned out well, I would share the recipe.
Usually, it takes weeks before I get a recipe out but I am so excited about how well this turned out, I'm sharing it as fast as I can!
The key to making the chicken soft and tender is to marinade it, usually in greek yogurt but in my recipe, I used a can of coconut cream, and it worked well.
I recommend you marinade it for at least 30 minutes, but overnight would be ideal if possible. I ended up marinating it overnight because it was starting to get dark and I couldn't take pictures of it anyways, and because of that the chicken ended up soft and juicy.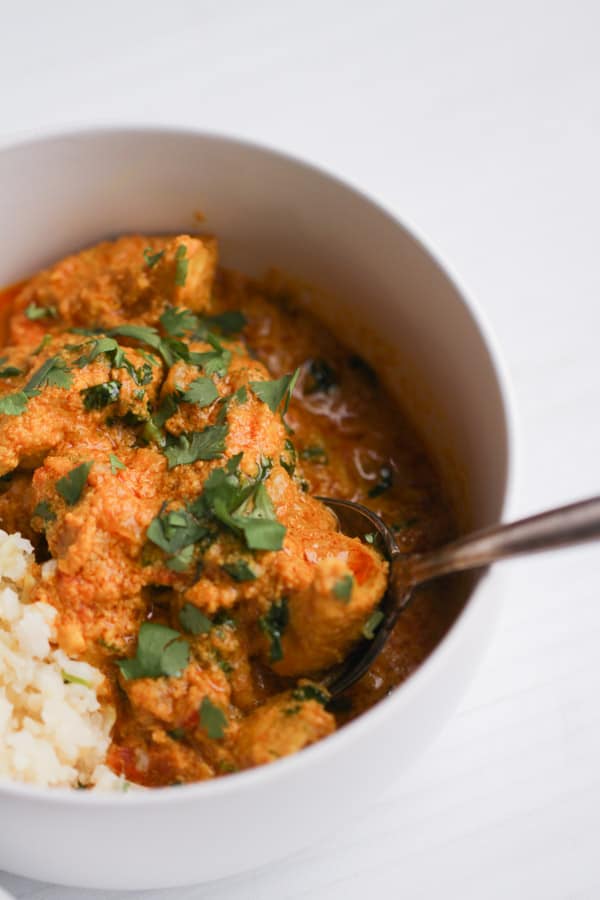 Also, in the end, I used a secret ingredient for the sauce that I have never seen used before in any Butter Chicken recipe; Fish sauce. Well, it's not a secret ingredient anymore, but that's ok because I want you to have that OMG reaction like I did after a bite of this Keto Butter Chicken.
Fish sauce is pretty much what it sounds like, fish in a liquid form. I know, it seems disgusting. It even smells disgusting. I'm talking about old grandpa socks, and from the grandpa who never showers.
I know, I'm not selling it up but just trust me with this one. Plug your nose and add in about a tablespoon, even two if you want (taste it first after adding more). Fish sauce is the Umami flavor that you taste in Thai and Asian food. It really makes a difference in this dish.
Nowadays, you can find Fish Sauce in the Asian section of the grocery store. If you live in a rural area, you may have a hard time finding it and may have to go to an Asian store or order it online.
Fish sauce is often made from anchovies, salt, and water, and is intensely flavored. Anchovies and salt are arranged in wooden barrels to ferment and are slowly pressed, yielding the salty, fishy liquid. The salt extracts the fluid via osmosis. (compliments of Google)
So we got the coconut cream, we got the Fish Sauce, what else? You'll need a few Indian spices of course, and some coconut milk and broth or stock for the sauce. Oh, and of course, butter! It is called "Butter Chicken" after all.
If you are dairy-free like I have been lately since switching to Clean Keto, use Ghee. Ghee is clarified butter with all the milk solids removed. Think of it as liquid gold. (Not to be mistaken for breast milk)
I am obsessed with these GIFs if you can't tell already. I hope you have a sense of humor or you're going to get quickly annoyed with my posts. On the other hand, that's why I included the "Jump to Recipe" button.
Ok, speaking of which let's jump to that recipe.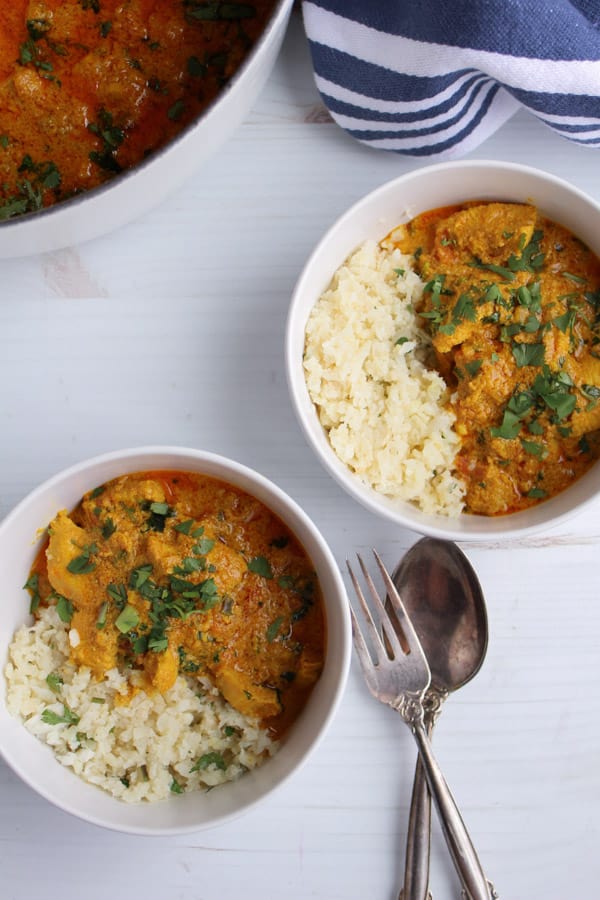 More Keto Recipes to try: