These Buffalo Goat Cheese Balls can be made using Goat Cheese or Mozzarella Cheese, either way, they are heavenly!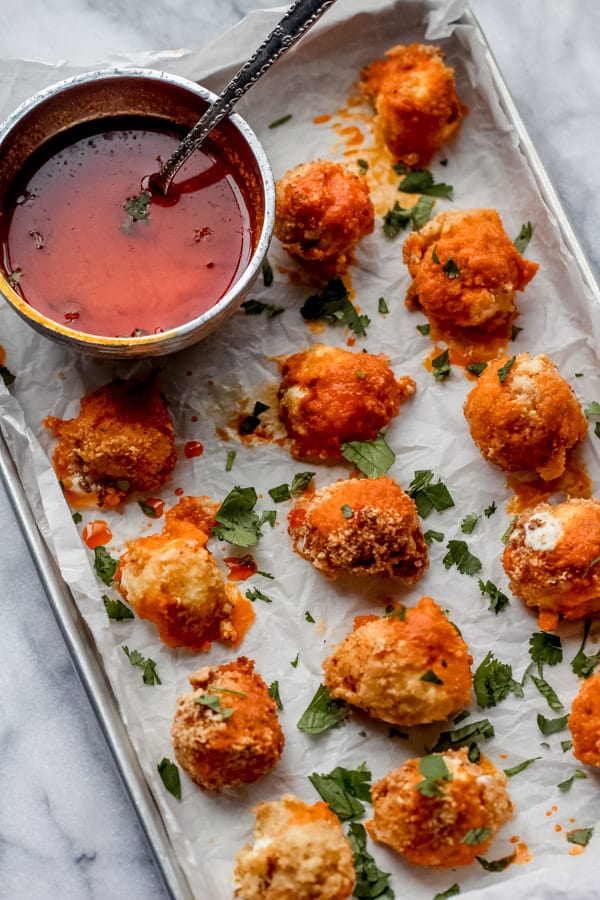 I believe there are two different types of people in this world; Goat cheese lovers and Goat cheese haters. Which one are you?
If you are a Goat cheese hater, don't leave just yet. You can make these balls using Mozzarella cheese. Now, if you don't like either, what is wrong with you?
I am a Goat cheese lover, and my husband is not. He thinks Goat cheese tastes like dirt. However, he will eat Blue Cheese which is like eating straight-up mold, so I just don't get it.
Anyhow, I got inspired by this recipe by Half Baked Harvest which is one of my favorite food bloggers. Her recipes and pictures are off the charts. Most of them are not Keto compliant. However, I saw her make these Buffalo Goat Cheese Balls, and because I love Goat cheese and was determined to make them low-carb.
It was easier than I thought. Instead of using regular flour, I used Coconut flour, and instead of using Panko, I used crushed Pork Rinds.
Taking a few handfuls of Pork Rinds and processing them in a food processor or just placing them in a ziplock bag and crushing them with a meat mallet is a great way to make keto "breadcrumbs." (also, the latter is very therapeutic)
From there, you make the buffalo sauce. Combine your favorite hot sauce (I used Frank's) with melted butter and season it with some pepper. I like to do it over low heat in a saucepan, but you can use a microwave also.
Lastly, fry the balls. You can do this in a few different ways. You can fill a dutch oven or deep pot with Coconut Oil about 1 inch high, and you can use an air fryer if you have one, or merely bake these.
If you are going to fry these in a dutch oven, make sure you are being smart about it, and don't let your kids near the pot. The oil tends to splatter once you put the balls in.
While they are swimming in the oil, move them around occasionally, so the breading doesn't stick to the bottom of the pan and come off of the balls. That happened a few times when I was making these, so I learned my lesson.
If you are using a large log of goat cheese, you will probably make about 20 balls. If you are using mozzarella cheese, I recommend you purchase the little balls in the containers because they will be much easier to work with
Looking for more great keto appetizers? Check out all of these yummy recipes.
More Keto Recipes to try:
Dairy-Free Buffalo Chicken Dip