These Braised Short Ribs are so tender and juicy, you'll want to make them every weekend!
I like cooking with wine, sometimes I put it in my food too 🙂
What are your weekend plans?? How about making these Red Wine Short Ribs? This isn't 30 minutes or less recipe because perfection takes time and these short ribs are nothing short of perfection.
Anytime I see wine in a recipe I get intrigued because of A. I love wine and B. cooking with wine elevates the flavor in any dish.
The inspiration for this recipe came from Bon Appetit Magazine where a lot of my inspiration comes from because their recipes are amazing. I've made these a few times so I've learned some tips and tricks and have made some adjustments over the years.
What cut are short ribs?
Beef short ribs are the equivalent of spare ribs in pork, with beef short ribs usually larger and meatier than pork spare ribs. "Boneless" short ribs are cut from either the chuck or plate and consist of rib meat separated from the bone.
What is a good substitution for short ribs?
Chuck roast would be the best substitute if you can't find short ribs.
First off, let's talk about the short ribs. Bone-in or bone out? It's really up to you, just know that if you purchase bone-in they will take longer to cook. Also, you will get less meat on them. However, if bone-in are on sale then get them in a larger quantity than the recipe calls for.
Secondly, when you are choosing a wine, you want to choose something bold like a Cab or Malbec. You won't want to get the cheapest bottle but I wouldn't go spending $50 on a bottle of wine for this recipe either. Pick something that you would drink yourself if you are a wine drinker.
Note: If you are not a wine drinker, you may not like this recipe, because they are "Red Wine Braised Short Ribs".
How to make Braised Short Ribs
Let's go through this recipe step-by-step.
Keep in mind, these process shots are done with terrible lighting. I took this a while back when I was clueless about photography so forgive me.
More Keto Recipes to try: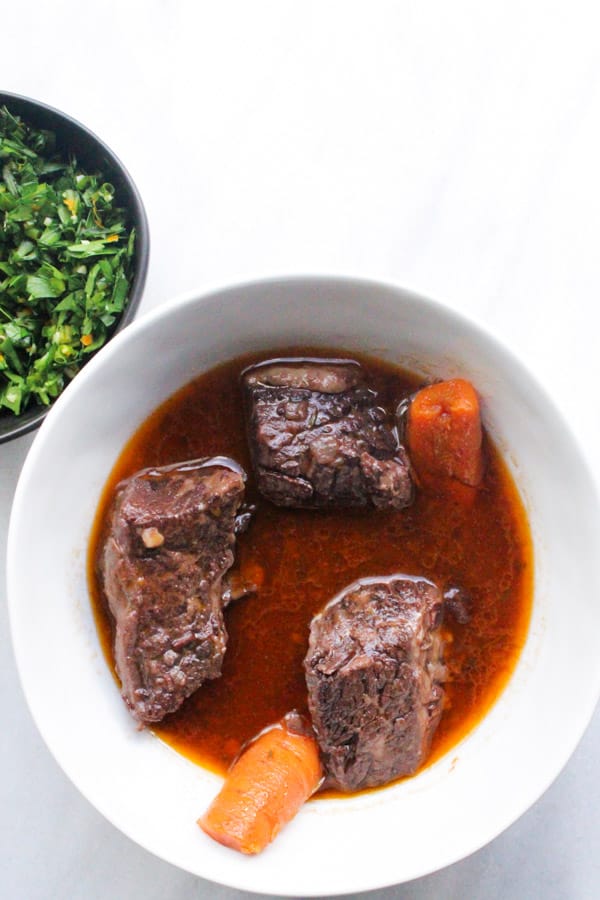 Love mashed potato but you're on a keto diet? Try my Cauliflower Mash recipe. It's a keto-friendly substitute for mashed potato.