This Keto Bacon Cheeseburger Casserole is so good, that it will taste like you are eating a cheeseburger without the bun.
Are you looking for a delicious and easy keto-friendly meal that will satisfy your cravings for a classic burger without ruining your diet? Look no further than this delicious keto bacon cheeseburger casserole recipe!
Do you like burgers? Yes, I do, yes I do. Do you like Bacon? Yes, I do, yes I do. Do you like burgers with bacon??? If you are a parent, you are probably as familiar with this song as I am.
I love burgers, bacon, cheese, and everything else that is in this Bacon Cheeseburger Casserole. I made this easy keto casserole a little while ago, and it lasted about 20 minutes. I should have doubled the recipe. My husband couldn't stop eating it.
What is a Cheeseburger Casserole?
A cheeseburger casserole is a comforting and delicious dish that combines all the flavors of a cheeseburger in a convenient and easy-to-make casserole form.
This dish is perfect for those following a ketogenic diet or those looking for a low-carb alternative to traditional cheeseburgers. In this blog post, we'll explore what a cheeseburger casserole is and how to make it.
A cheeseburger casserole is essentially a deconstructed cheeseburger in casserole form.
It typically includes ground beef, cheese, and seasonings, along with other ingredients that are often found in a cheeseburger, such as pickles, onions, and mustard.
The casserole is baked in the oven, allowing all the flavors to meld together and creating a satisfying and filling meal.
Ingredients for a Keto Cheeseburger Casserole
The ingredients for a cheeseburger casserole can vary, depending on personal preference and dietary restrictions. However, some of the most common ingredients include:
Ground beef (or a ground meat alternative for those following a plant-based diet)
Shredded cheese (cheddar or mozzarella are popular choices)
Diced onions
Diced pickles
Mustard
Mayonnaise
Optional seasonings, such as garlic powder or paprika
How to Make a Cheeseburger Casserole
Making a cheeseburger casserole is easy and can be done in a few simple steps:
To start, preheat your oven to 375°F and grease a 9×13-inch baking dish with some butter.
Then, in a large skillet over medium heat, cook 4 slices of bacon until crispy. Remove the bacon from the skillet and set aside.
In the same skillet, add 2 tablespoons of butter and sauté 1 medium diced onion until translucent.
Add in 1 pound of ground beef and cook until browned. Drain any excess fat.
While the beef is cooking, in a separate bowl, whisk together 1 cup of heavy cream and 2 eggs.
Once the beef is cooked, add 1/2 cup of Primal Kitchen sugar-free ketchup, 1 tablespoon of yellow mustard, and the egg mixture. Mix everything together until well combined.
Next, spread the beef mixture evenly into the prepared baking dish.
Top with sliced pickles and crumbled bacon, then sprinkle 1 cup of shredded cheese on top.
Bake the casserole for 25-30 minutes, or until the cheese is melted and bubbly.
Let it cool for a few minutes before serving.
This keto bacon cheeseburger casserole is a great option for meal prep, as it can be made in advance and reheated throughout the week.
It's also a great way to satisfy your burger cravings without breaking your keto diet.
You can easily customize this recipe by adding in other ingredients like diced tomatoes, mushrooms, or even jalapeños for some extra heat.
Just be sure to adjust the nutritional information accordingly.
With its delicious blend of savory flavors and gooey melted cheese, this keto bacon cheeseburger casserole is sure to become a new family favorite.
Give it a try today and see just how delicious keto eating can be!
I think he felt bad going in for seconds because I usually make casseroles that are way larger, but I could tell by the look on his face how badly he wanted more. We ate it faster than it took to make it and that says a lot because this Bacon Cheeseburger Casserole recipe doesn't take that long to make.
If you love cheeseburgers, this casserole dish is like a deconstructed bacon cheeseburger with all the fixings. It's so flavorful and filling, and you don't feel like crap after eating it because spoiler alert: it has no bun!!
You can add or omit any toppings that you want depending on how you like your burgers. I added bacon, ketchup, hot sauce, pickles, and mustard to this recipe.
There are no rules on how to make this. Throw in whatever you like on your burgers.
Feel free to double this recipe if you have burger lovers in your family because it will go fast. The ingredients for this casserole dish are relatively cheap, so you can duplicate it without breaking the bank.
So, next time you are craving a burger and don't want to mess with lettuce wraps and make the patties, give this casserole dish a try!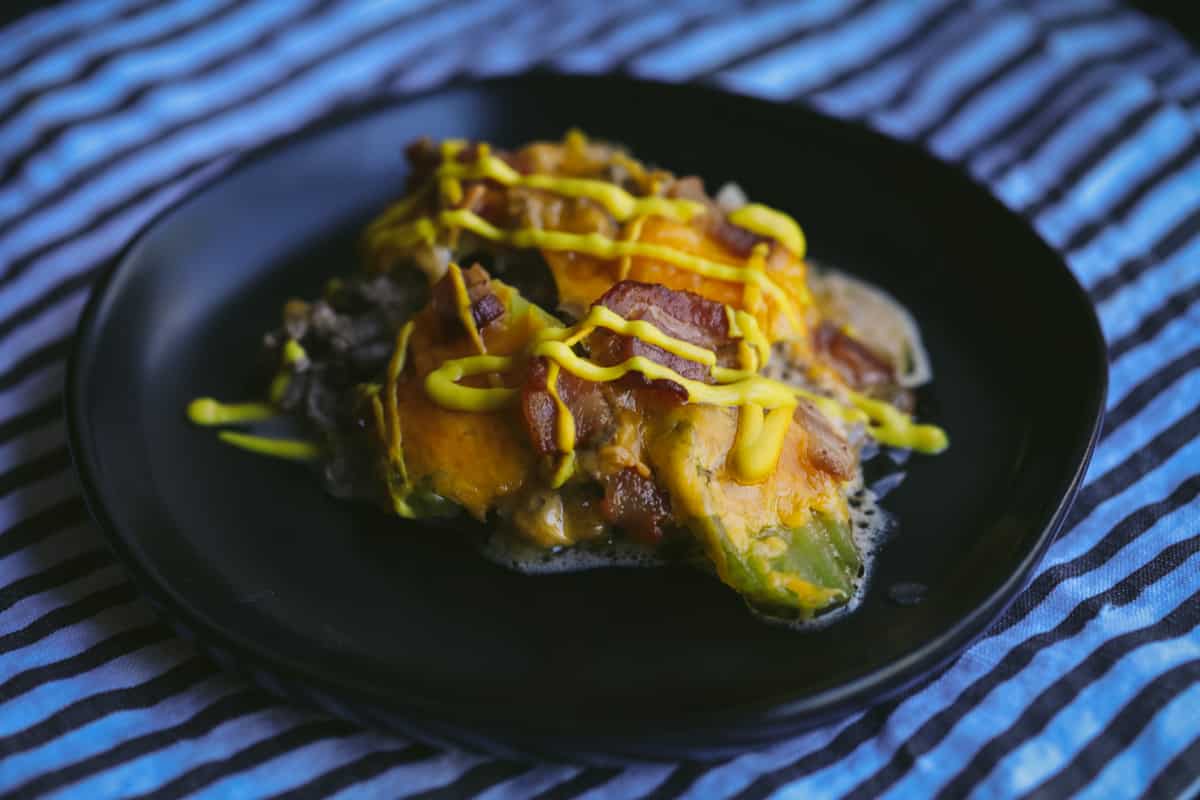 I promise you will love it!! If you don't, message me and I'll take it off your hands. 😉
What Can I Use Instead of Ground Beef In This Keto Cheeseburger Casserole?
If you're following a ketogenic diet, you may be looking for ways to enjoy your favorite comfort foods while staying within your macronutrient goals.
One such dish that you may be craving is a cheeseburger casserole, but if you're trying to avoid ground beef, there are plenty of alternative protein sources that can be used instead.
Here are some ideas for what you can use instead of ground beef in a keto cheeseburger casserole.
Ground Turkey
Ground turkey is a popular alternative to ground beef, as it is leaner and has a milder flavor.
It can be used in the same way as ground beef in a cheeseburger casserole and can be seasoned with similar spices and herbs.
Ground turkey is also a great source of protein, and is lower in saturated fat than ground beef.
Ground Chicken
Another lean protein option is ground chicken, which can be used in place of ground beef in a keto cheeseburger casserole.
Ground chicken is versatile and can take on a variety of flavors, making it a great choice for this dish.
It is also lower in calories and fat than ground beef, making it a good option for those who are watching their caloric intake.
Ground Pork
If you're looking for meat with a richer flavor, ground pork may be a good choice for your cheeseburger casserole.
While it is higher in fat than ground beef, it is still a good source of protein and can be seasoned with the same spices and herbs as beef.
Ground pork can also add a new dimension of flavor to your dish, making it a tasty alternative to beef.
Ground Bison
Bison is a leaner meat than beef, making it a healthier choice for a keto cheeseburger casserole.
It has a similar flavor to beef, but is slightly sweeter and has a more tender texture.
Ground bison is also a good source of iron and vitamin B12, making it a nutritious choice for your meal.
What Other Toppings Can I Add To This Keto Cheeseburger Casserole?
This dish is easy to make and packed with flavor, and there are plenty of topping options that can be added to take it to the next level.
Here are some topping options for a keto cheeseburger casserole.
Bacon
Adding bacon to your keto cheeseburger casserole can give it an extra boost of flavor and texture. Bacon is a great source of fat, which is essential for a ketogenic diet. To keep your bacon crispy, cook it separately before adding it to the casserole.
Avocado
Avocado is a great source of healthy fats and adds a creamy texture to any dish. Sliced avocado can be added as a topping to your keto cheeseburger casserole to provide a rich, buttery flavor.
Tomatoes
Tomatoes are a great source of vitamin C and add a bright, fresh flavor to any dish. Sliced tomatoes can be added as a topping to your keto cheeseburger casserole to add a pop of color and texture.
Pickles
Pickles are a classic burger topping and can be used to add a tangy flavor to your keto cheeseburger casserole. Diced pickles can be added as a topping or mixed into the casserole before baking.
Onions
Onions can add a savory flavor and crunch to your keto cheeseburger casserole. Diced onions can be added as a topping or mixed into the casserole before baking.
Cheese
Cheese is a must-have ingredient in any cheeseburger casserole. Shredded cheddar or mozzarella cheese can be added as a topping or mixed into the casserole before baking to add a gooey, cheesy flavor.
Lettuce
Adding shredded lettuce to your keto cheeseburger casserole can provide a refreshing crunch and add some extra nutrients to your meal. It's best to add the lettuce as a topping just before serving to prevent it from getting soggy.
Mustard or Mayo
Mustard and mayo are classic burger condiments that can be added as a topping to your keto cheeseburger casserole. Just make sure to choose a brand that does not contain added sugars.
Whether you choose to add bacon, avocado, tomatoes, pickles, onions, cheese, lettuce, or mustard/mayo, these toppings can take your dish to the next level and make it a satisfying and delicious meal that fits within your dietary goals.
HELP! My Casserole is Runny!
One common problem with this recipe is that it can sometimes turn out runny or watery. This can be frustrating, especially if you're trying to impress guests with your cooking skills. Fortunately, there are a few simple tips you can follow to prevent your keto cheeseburger casserole from being runny.
Drain Excess Liquid from the Meat-The first step to prevent a runny casserole is to make sure that you properly drain any excess liquid from the meat before adding it to the casserole. This is particularly important when using ground beef, which can release a lot of liquid as it cooks. After browning the meat, drain off any fat or liquid and then return it to the pan.
Use a Thicker Sauce- Another way to prevent your casserole from being runny is to use a thicker sauce. If your recipe calls for a liquid sauce or dressing, try thickening it with a keto-friendly thickener like xanthan gum or coconut flour. Alternatively, you could use a creamier sauce like a homemade cheese sauce or a mixture of cream and eggs. These thicker sauces will help bind the ingredients together and prevent any excess liquid from pooling at the bottom of the dish.
Don't Overdo the Vegetables- While vegetables like onions and tomatoes can add a lot of flavor to your casserole, they can also release a lot of liquid as they cook. To prevent your casserole from getting too watery, try to limit the number of vegetables you add to the dish. Alternatively, you could sauté them separately and then add them to the casserole once they've released most of their moisture.
Let it Rest Before Serving– Finally, it's important to let your casserole rest for a few minutes before serving. This will give the ingredients time to set and thicken up, which will help prevent any excess liquid from seeping