Nothing says summer to me like a classic Caprese Salad. It doesn't even have to be summer; I still love it so much.
I make this salad a lot during the late summer when the tomato harvest comes in, and the tomatoes come flowing from both my parents and my in-laws.
I usually add balsamic vinegar to my Caprese Salad, but this time I wanted to keep the flavors simple and taste the tomatoes.
Nothing fancy here, just fresh garden tomatoes, fresh mozzarella, basil, and some good olive oil.
Fun fact: The colors of this salad represent the Italian flag. How creative!
I like to mix and match the tomatoes I use for different textures and dimensions. Not to mention how pretty it looks. When you are cutting the tomatoes, use a serrated knife, so you get nice, clean slices.
Don't skimp out on buying fresh mozzarella; it's a crucial part of making this salad taste the way it's supposed to. Plus, if you have all those beautiful, organic tomatoes, why would you ruin them with crappy, processed cheese?
The same thing goes for basil, DO NOT use dried basil. For the love of God. I'm sure you can find one neighbor that grows basil if you don't have a herb pot of your own.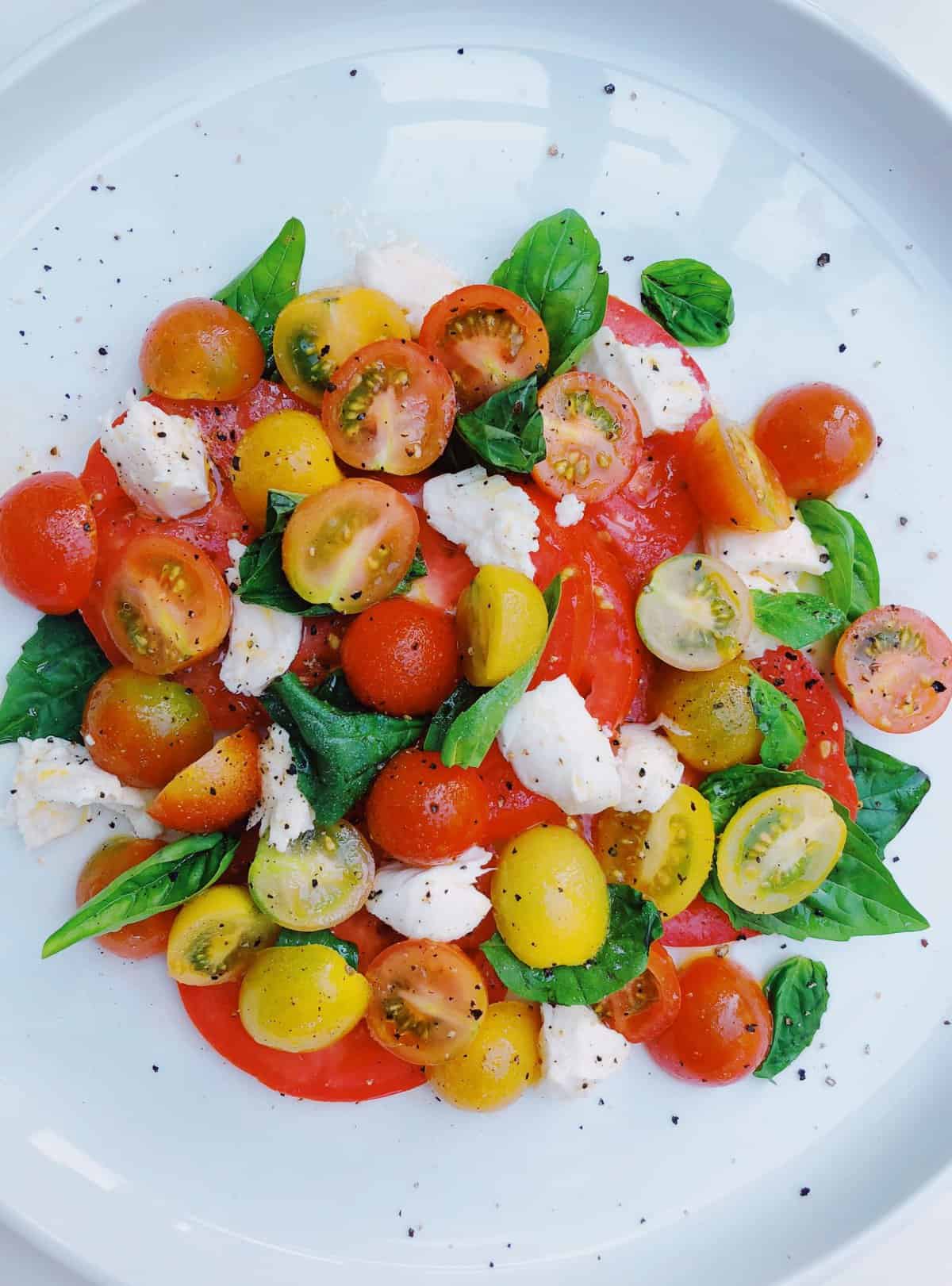 Tell them you'll bring over some Caprese Salad in exchange for a bundle of fresh basil! That way, you can make some pesto later too!!
So sit down with a nice glass of white on your patio, or just take a fork and eat straight from the dish as I do. Either way, enjoy simplicity at its finest.
Check out my Clean Keto Salad Recipes.
This post contains an affiliate link in which if a purchase is made I receive a commission at no additional cost to you. Just some diaper money. Thank you for your support!