Say what?? Bourbon Brown Sugar Pork?! Oh yeah, and it's Keto friendly!! Yep… I'll share all of my secrets ????.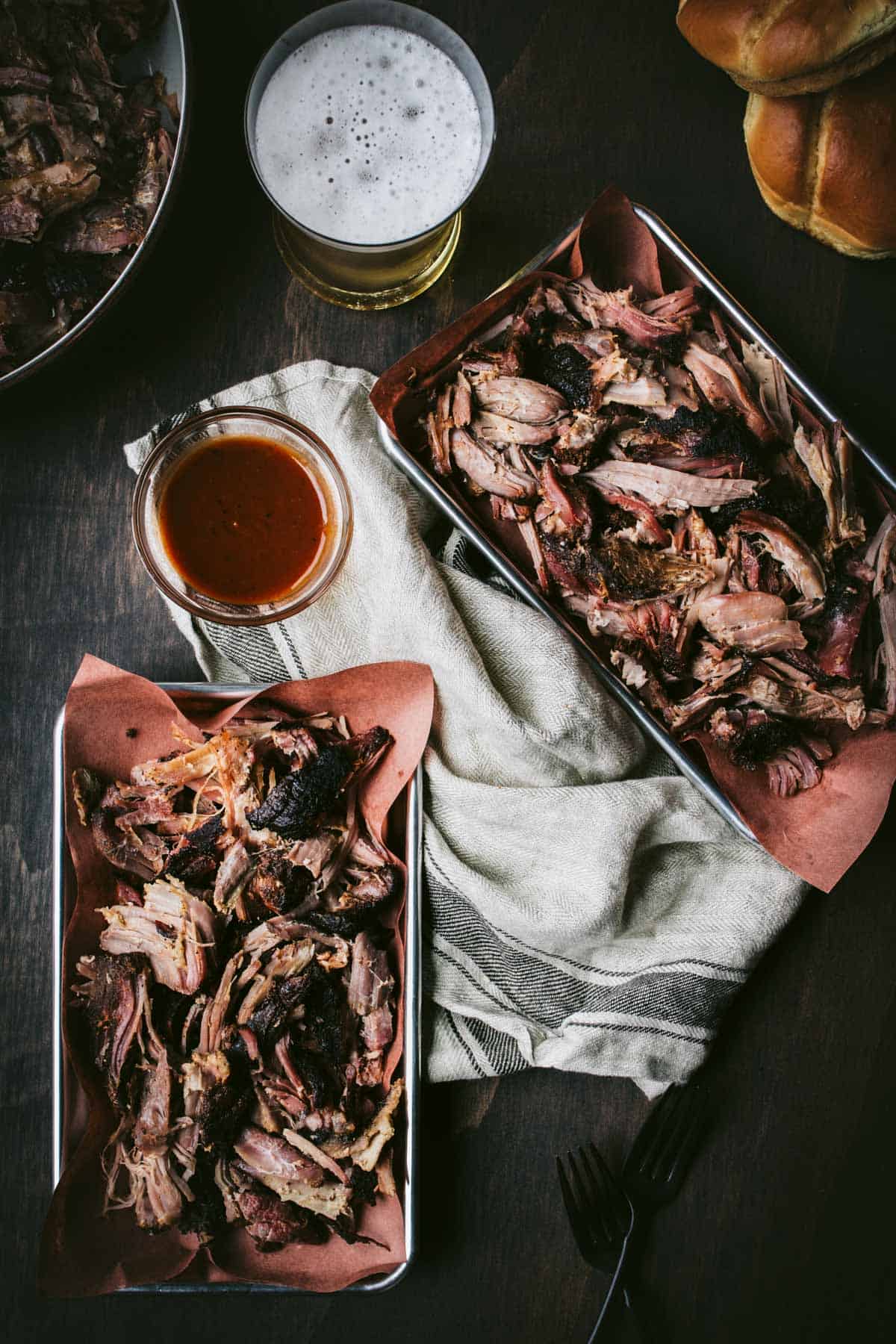 SUMMER IS HERE!! Finally! This means it's smoking season!! Whoo-hoo!! If you are new to this blog, you will quickly learn that our family is obsessed with smoking meat. Well, at least my husband and I are, my daughters are much too young to be into it, however, they do enjoy eating it!
In fact, we are so obsessed with it, I decided to start a separate Instagram page, dedicated to our bbq recipes called "Holzie BBQ". Go check it out and give us a follow!
Ok, so we were itching to smoke something since the weather has finally turned and a few weeks ago I was in Aldi and saw huge pork but for like $8 or something stupid cheap like that so I couldn't pass it up.
This is our first smoke of this year, and it's a good one! I wanted to do something crazy and extra special, hence; Bourbon Brown Sugar Pork.
If you are following a Ketogenic diet, I already know what you are thinking, "This girl is full of ????, brown sugar isn't Keto." Well, no it isn't, but Sukrin Brown Sugar Alternative is.
By now, you should know there is a Keto replacement to EVERYTHING these days, which is awesome for us because the possibilities are endless.
As far as Bourbon goes, it's absolutely Keto, because liquor has 0 carbs. Yay for us. However, drinking will stall your weight loss and may lower your ketones, blah, blah, blah. (You can read all about Keto and alcohol here if you want to learn more) but we don't care about that right now.
Right now, I care about telling you how to make the most amazing smoked pork you'll ever have in your life, but you will need to pay attention and read all of these notes. I'm not sharing random things about my kids or cat here ( don't even own a cat, btw). This stuff is important to read to make sure you get this recipe correct.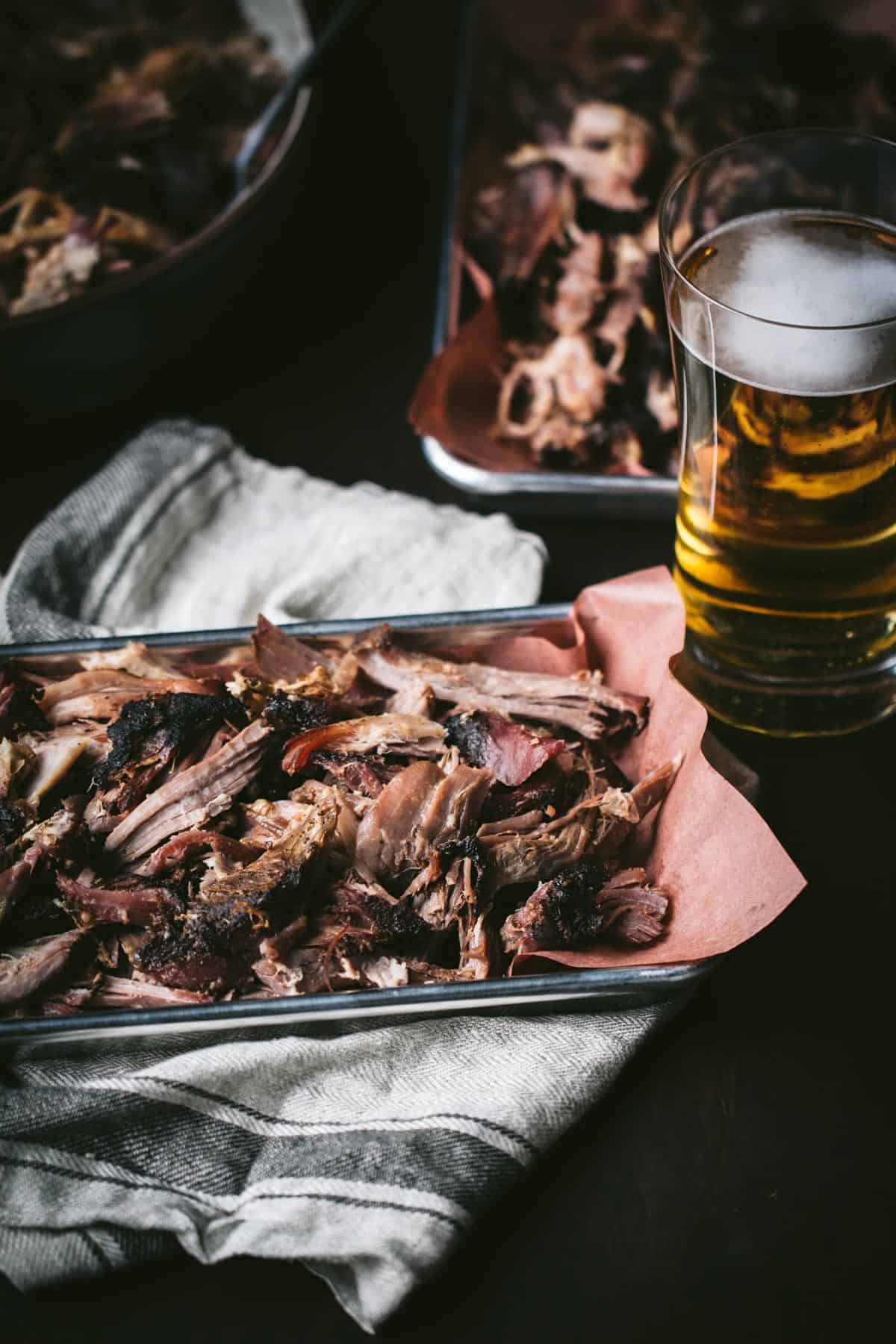 Ok, let's get started.
How to make Bourbon Brown Sugar Pork
Step 1-
You'll need a good size pork butt or pork shoulder. Bone out preferably.
If you happen to get a bone in pork, it's not the end of the world, just know that it will take longer to smoke or bake if you plan on baking this because you don't have a smoker yet. (Which you should finally get, I mean, why not).
Step 2-
Dry off the pork with paper towels. This will help the rub adhere to it much better.
Step 3-
Make the injecting liquid. Yep, that is right, you are going to inject the pork with a bourbon brown sugar serum. It's gonna be epic.
For this, you will need a meat injector. If you don't have one, this is a good one.
You will need to mix 1/2 cup of bourbon of choice (doesn't have to be the fancy stuff) with 1/2 cup of Sukrin brown sugar alternative
Step 4-
Inject the pork with the liquid. Try to distribute it evenly and occasionally mix the liquid up because the sugar will want to sink to the bottom.
Step 5-
Now you will make the rub. Combine all of the rub ingredients in a bowl and generously rub down the pork with it. You may have some rub left over and that is ok.
Step 6-
Now that you have your Bourbon Brown Sugar Pork injected and rubbed down, it's time to wrap it tightly with plastic wrap and let it marinate for at least 8 hours. Ideally, 24-48 hours.
However, I know you may be reading this recipe and want to make it today or tomorrow so go do these steps asap. Then come back and finish reading..
Ok, are you back? So you've wrapped it tightly and it's in your fridge. Awesome. Now when you are ready to smoke or cook it, it's very important that you take out the pork at least a few hours before you start cooking it.
Doing this will ensure even cooking. Don't miss this step.
What wood should I use to smoke this Bourbon Brown Sugar Pork?
For smoking pork, especially this Bourbon Brown Sugar Pork, I recommend that you use hickory, maple or oak wood.
How long does it take to smoke Bourbon Brown Sugar Pork?
The average cooking time is around one hour per pound so it depends on how big your pork is.
PRO TIP: If you have a large pork shoulder but it's starting to get really dark on the outside but it's not pulling apart ready yet, cover it with foil or butchers paper and place it back on the smoker.
Keep in mind that the larger your pork shoulder is, the longer it will take to cook. We had this bad boy on for about 8 hours and still had to put it in the oven after because it was not as pull apart as we wanted it to be.
If you don't want to spend the entire day smoking, I suggest you buy two smaller pork shoulders. Otherwise, expect to be smoking for a long time to get the pork to the pull-apart consistency it should be.
Yes, it's better to cook more meat because you are spending all that time smoking it you might as well make a lot of food to last you for the week, however, you won't be able to eat it that same day if it weighs 8 lbs because it will take the entire day to smoke it at 225°.
You can always increase the smoking temperature, but that takes away from the "low and slow" method. Either way, it's ok to put the pork in the oven at the end to really soften the insides. You will still get all of the smoke flavor and smoke rings that you desire from the pork.
What if I don't have a smoker?
Well, You should get one. ???? We have a Traeger and we love it. However, for the time being, you can definitely make this pork in the oven. It won't look as sexy though, and that's just the truth.
If you chose to cook this in the oven, I would set it at 225° for however many hours you need based on how large your pork is; remember, it's about 1 hour of cooking time per pound. In the end, you can turn it up to broil to get that nice caramelized top. Just don't burn it (been there, done that).
Or, you can watch this video and see how to do it quickly;
More Keto Recipes to try: