Chinese Cashew Chicken is one of my favorite takeout meals. This recipe is even better without all of the MSG!!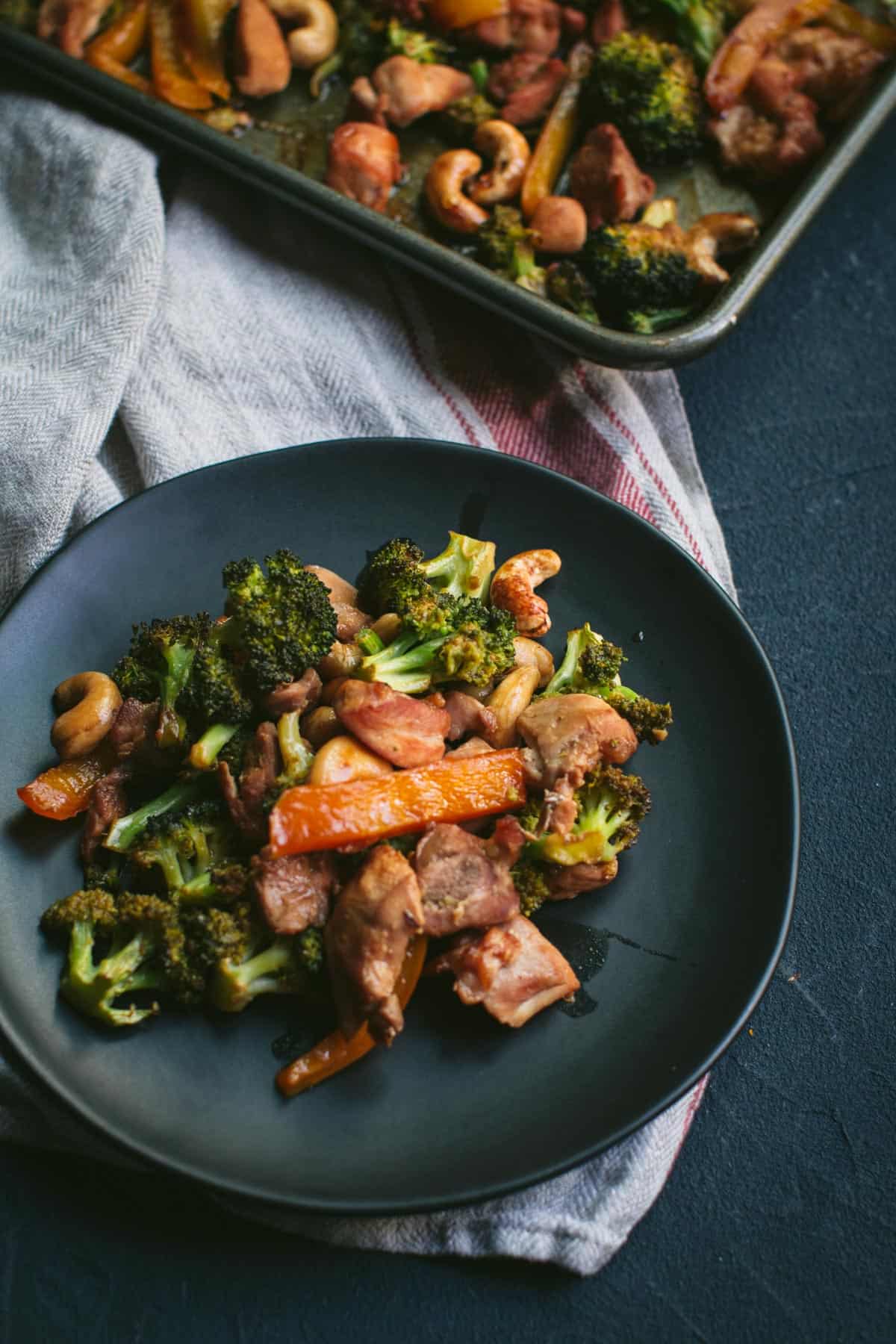 Chinese take-outs are arguably one of the best guilty pleasures out there… but they can also be quite unhealthy! When I first started keto, cutting out carbs and sugary sauces was quite daunting – especially when I thought about having to cut out my absolute favorite cashew chicken.
Luckily for me (and you), this recipe lends itself well to keto. And, like always, it's so easy to prepare – just as easy as ordering in (and probably quicker)!
Sheet Pan Keto Chinese Cashew Chicken
You'll most often see stir fry keto versions of Cashew Chicken, but I decided to switch things up a little and create a sheet pan version of my favorite Chinese takeout. (And you know I love sheet pan meals!)
To ensure your chicken doesn't dry out, cut them into equal-sized strips so they all have the same cooking time.
What Is A Sheet Pan Meal?
A sheet pan meal is a similar concept to a one-pot meal, except you're doing all your cooking on a sheet pan in the oven.
A sheet pan is a wide, shallow baking pan – either made from aluminum or stainless steel. The low sides are important as they encourage airflow and browning.
Sheet pan meals save time and make clean-up a breeze (especially if you line your pan with foil), and don't require any fancy ingredients.
Ingredients you'll need for Keto Chinese Cashew Chicken
1 lb Chicken – boneless and skinless (I prefer breast for this recipe, but you can also use thighs)
Broccoli florets
Cashews
Sesame seeds for garnish
FOR THE SAUCE:
Ginger
Garlic cloves
Orange pepper
Can you eat cashew nuts on keto?
You can eat cashew nuts on the keto diet but in moderation. At 9 grams of total carbs and 8 grams of net carbs per ounce, the carbs can add up quickly. I find in recipes like this Cashew Chicken, a little goes a long way.
More Keto Recipes to try:
Are you curious about What is Clean Keto Carb Cycling? Check out my post and learn if this way of eating is right for you.